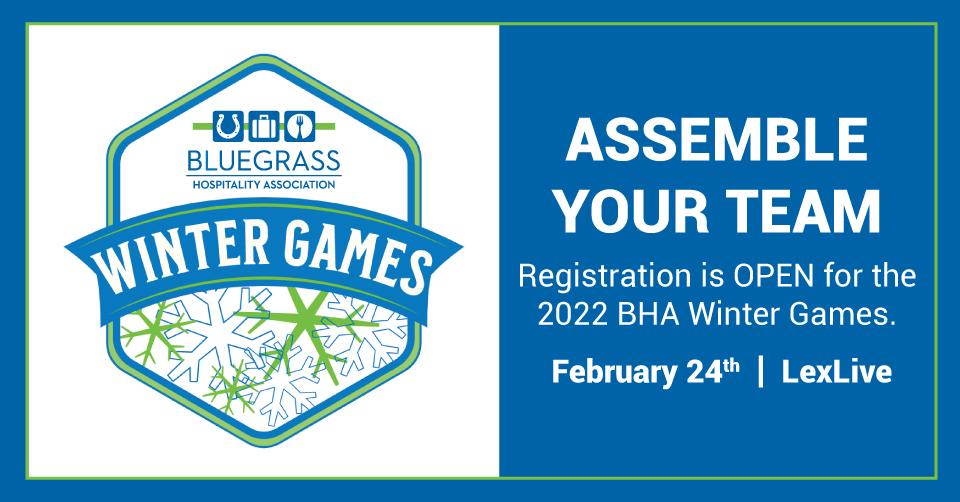 BLUEGRASS HOSPITALITY ASSOCIATION TO HOST FIRST WINTER HOSPITALITY GAMES
The Bluegrass Hospitality Association will host the first WINTER Hospitality Games, presented by MKP Management at LexLive on February 24th, 2022 from 3:00 –  5:00 pm. The original games, hosted late summer of each year, were designed to promote awareness of the contributions of the hospitality industry to the local community. These WINTER Games have the same focus, but are timed for a much needed boost in the season and for networking among colleagues. BHA members and their staff are invited to come out and enjoy the fun as they compete head-to-head for this year's bronze, silver and gold medals; and the coveted "Spirit" Award. This fun and friendly competition is not only a chance to raise awareness for the good works of the BHA organization and hospitality industry but also an opportunity to raise money for a number of hospitality and tourism initiatives.
REGISTRATION DETAILS
Team Registration (up to six players): $250
Each team consists of up to six (6) individuals. All six (6) team members must be employees of the company or organization who registers the team
SPONSORSHIP DETAILS
The Hospitality Games will be an exciting event that brings the hospitality community together to promote awareness, community, and fun through friendly competition. The Games are a celebration of tourism and hospitality – see below for ways you can support the event and join the celebration!
Silver Sponsor: $150
(unlimited available)
Gold Sponsor: $350
(unlimited available)
Presenting Sponsor: $500
(Exclusive – Secured by MKP Management)